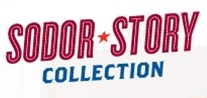 The Sodor Story Collection was an exclusive series that was introduced in 2014 on the Official Website and at Official Specialty Stations. The products include a hardcover book, activity sheet, and items to reenact the story. Exclusive characters have been introduced through the series.
The sets were created in response to retailers' concerns that the quality of the Wooden Railway toys was lowering due to how sparingly wood had been used in recent years. As such, the wood used is of higher quality and quantity.
On an annual basis, the line introduced one new engine that will not appear in the TV series. These engines are typically only available for a year. Collections were also released for the show's three main characters: Thomas, Percy, and James.
Each story collection consists of one set, one book pack consisting of two rail vehicles, one accessory pack consisting of two rail vehicles and (in some cases) additional pieces, and one track pack to expand the set.
However, the Percy and the Little Goat collection includes an individual release of the Harold's Search and Rescue Helipad that was already included in the Percy and the Little Goat Set, while the Dustin collection features a Search and Rescue Center that, unlike the helipad, is not available with any other releases. This item also includes a sequel to the Dustin Comes In First book. The line was discontinued after 2016.
Products
Gallery