The following list of recalls have occurred with products in the Thomas Wooden Railway range.
List of recalls
June 2007
A lead paint recall occurred in June 2007 where products tested in China revealed that the red and yellow paint used contained lead. Lead, a highly poisonous heavy-metal, posed an acute threat to people using the affected merchandise and necessitated a recall. Over 1.7 million items from stores and consumers produced from January 2005 to May 2007 were checked for lead, in what became the biggest recall in Learning Curve's history. Consumers who sent in their affected items received a free gift back with their amended items.

September 2007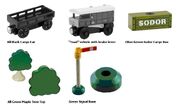 A second lead paint recall happened in September 2007. This time, 200,000 items which used black and gray paint sold between March 2003 to September 2007 were found to contain lead.
Trivia
The Wooden Railway range's creator, Roy Wilson, was appalled by the 2007 recalls. During his seven years working on the range at Learning Curve, Wilson had set up a paint inspection program where random samples of paint were taken every hour, with no reported issues having turned up in that time.
External Links